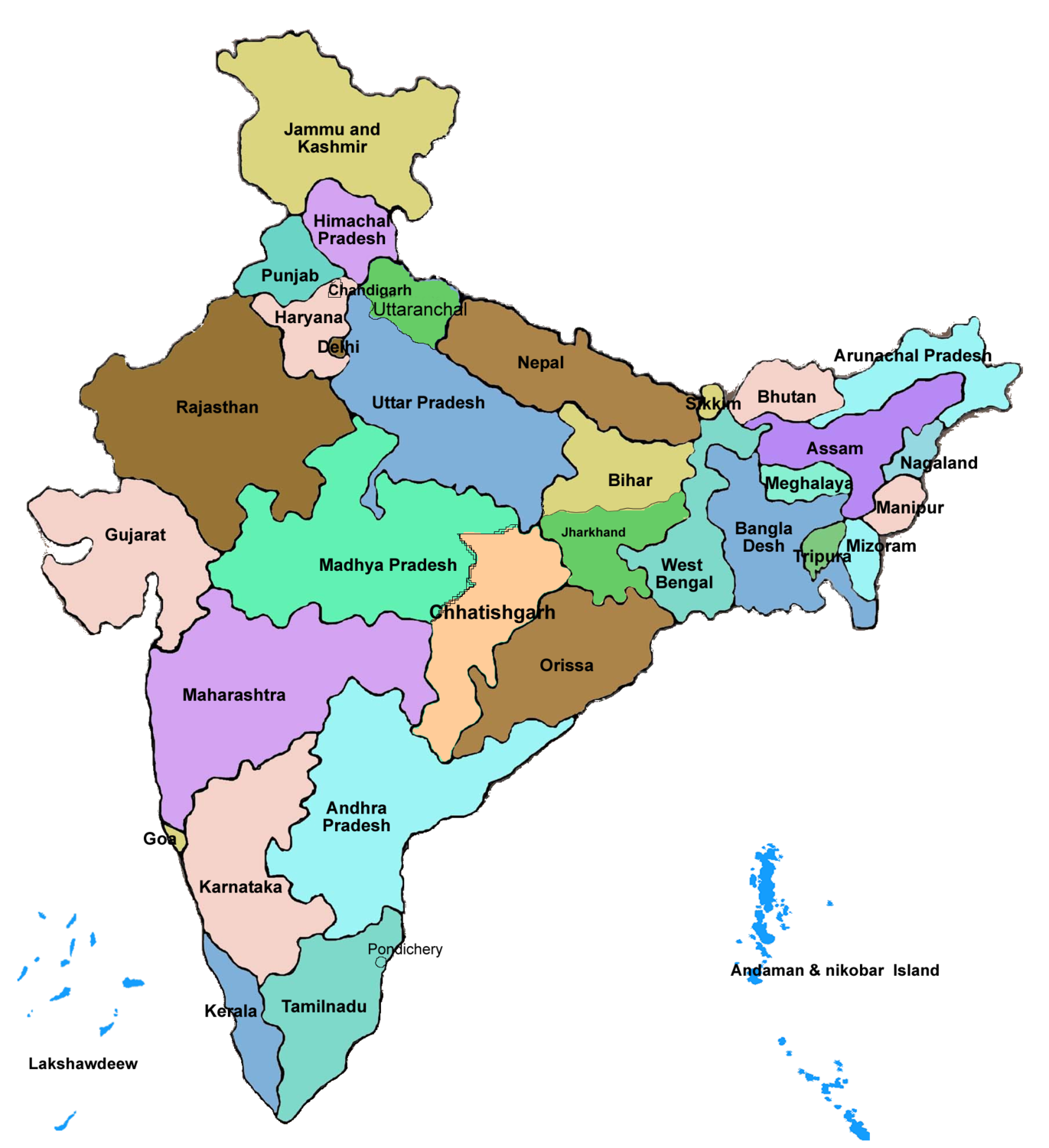 India is an enormous country. On the map of the world, it dominates southeast Asia and it is home to around 1,25 billion people. To the south of the country, the coastline faces the Indian Ocean, to the southwest one finds the Arabian Sea and to the southeast, the Bay of Bengal.

India's neighbors include Pakistan to the west, to the northeast one finds China, Nepal and Bhutan. In the eastern border of Indian, there are the countries of Myanmar and Bangladesh.

India's Andaman Islands (some of the most beautiful in the world) and the Nicobar Islands are part of its maritime border between Thailand and Indonesia.

No explanation of an India map would be complete without an examination of the various regions that make up the country.

1. North India.
North India is made up of the states of Haryana, Jammu & v vc vc vc vc vc vc Kashmir, Himachal Pradesh, Rajasthan, Punjab, Uttar Pradesh and Uttarakhand. The major cities in this region include Delhi, Jaipur, Lucknow, Kanpur and Chandigarh. Languages spoken include Haryanvi, Urdu, Hindi and Punjabi.

The region has a number of attractions for tourists that include the world famous Taj Mahal, and a variety of sites which see pilgrimages from the devout from all over India. These include the Sikh Golden Temple, Ayodhya and Varanasi. Of course, no visit would be complete without sampling Punjabi food.
2. South India.

States include Kerala, Telangana, Tamil Nadu, Karnataka and Andhra Pradesh.The main cities are Coimbatore, Kochi, Hyderabad, Trivandrum, Chennai and Bangalore.Major languages are Kananda, Tamil, Telugu and Malyalam.This is one of the major regions for tasting and enjoying incredible Indian food such as Dosais and biriyani flavored with cardamon, tamarind and cloves.Major attractions include many Hindu temples and sites of pilgrimage, as well as a generous helping of Bollywood movie stars and politicians.
3. East India.

Consisting of the states of Bihar, West Bengal, Orissa and Jharkand with languages like Hindi, Oriya, Bhojpuri and Bengali.Major cities include Ranchi, Bhubaneswar, Patna, Jamshedpur, Dhanbad and Kolkata.No trip to this region would be complete without sampling the world famous fish dishes available, as well as taking in a cricket game - the population of East India are cricketing fanatics.
4. Central India.

Consisting of the states of Southern Uttar Pradesh, Madhya Pradesh and Chhattisgarh.Hindi is the language you will most often hear in this region. Major cities are Indore, Jabalpur and Bhopal.The region is famous for its game reserves where the last remaining Indian Tigers can be found. Its forests are also world famous, as is its diamond-producing capacity. People in this region love their food - and its no wonder, it's fabulously tasty.

5. Northeast India.

States in this region are Nagaland, Sikkim, Tripura, Meghalaya, Mizoram, Arunachal Pradesh, Assam and Manipur.Languages spoken are Nepali, Sikkimese, Garo, Manipuri, Nagamese, Assamese, Bengali and Bodo.This region has gained worldwide attention for an excellent tradition of martial arts as well as some of the best meat-based dishes in India. The scenic beauty of northeast India makes it well worth a visit, as does the proud tradition of the growing of Darjeeling teas.An examination of an India map shows that India is truly one of the most fascinating and diverse countries on the planet. With a multitude of regions - each with unique cultures, this is the world in one country.